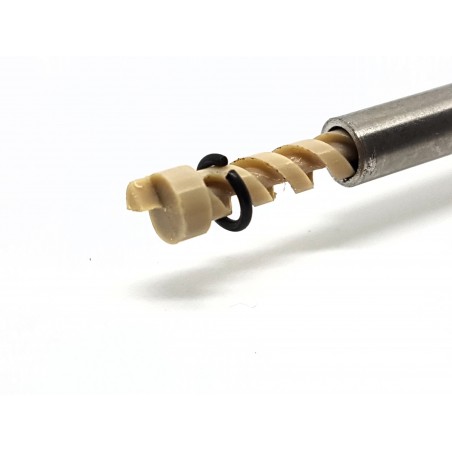  
'C ' Ring Fixing Tool
'C' Ringbefestigungswerkzeug
Manufactured from a high grade stainless steel this tool will secure the replacement  'C' ring firmly in place.
The method of using the tool is to ensure the new helix is properly seated in the knob with the upstand on the helix free to rotate within its limits. Put the new C ring over the helix rod and insert the tool over the helix to push the ring down
Most rings are then seated by pushing on the tool, but sometimes a light tap on the end of the tool will seat the ring firmly in place.
Tool Dimensions are as follows :-               Ring Dimensions :-
Outside diameter = 5mm                            Outside Diameter    = 5.6mm
Internal diameter = 3.8mm                        Inside Diameter d1 = 4.1mm
Length = 60mm                                            Coil Diameter   d2   = 0.75
Aktuell keine Kunden-Kommentare